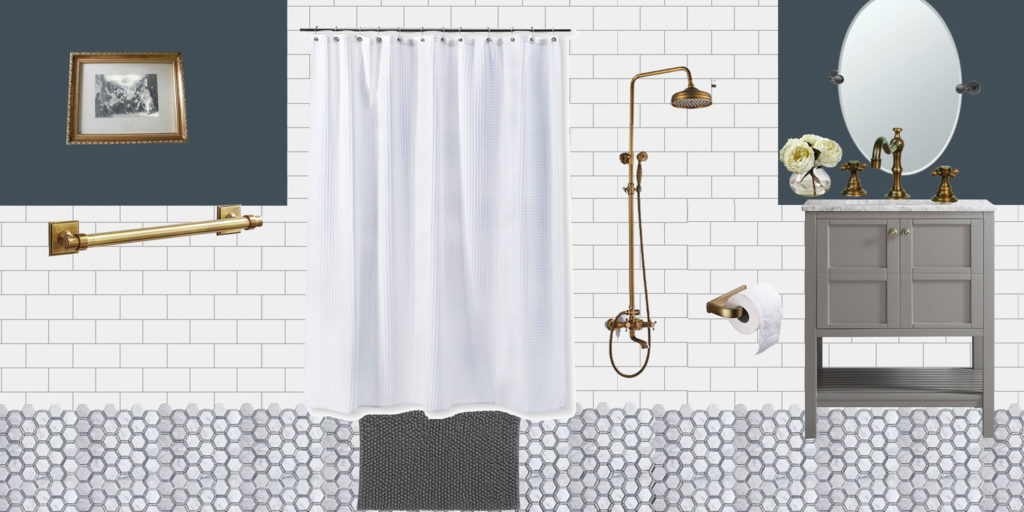 Marble Hex Tile/ Subway Tile/ Paint/ Vanity/ Faucet/ Mirror/ Shower Fixtures/ Shower Curtain/ Bathmat/ Toilet Paper Holder/ Towel Bar/ Art (Similar)/ Faux Flowers/ Towels (Love quality and price!)/ Best Toilet for the $$$
So is this the most beautiful mood board ever created? Well, no, but I think that it will give you (and my husband) a good idea of what I'm scheming for our guest bathroom. I'm hoping to create a balance between traditional and modern by using timeless finishes mixed with modern metals and lines.
Now that I'm working in real estate, I've found that I tend to focus more on balancing design with cost and general appeal. I'm still planning on designing to my our taste but I'm far more hesitant now to pull the trigger on something that's fairly trendy if it's on the expensive side or if it's hard to remove. While some might say that white subway tile is tired, I think that it's so classic that it'll never truly be out. Marble and hex shaped penny tiles are also fairly timeless so marrying both styles together for the flooring made total sense. The current bathroom hasn't been really changed in almost 50 years so I'm hoping that the subway and marble tiles will last another 50 years.
One of the main things that I love about mood boards is that you get to see all your ideas together in one place, hopefully in a cohesive design. While I do like most of the finishes, I'm not quite sure about the mirror and the the paint color. The mirror is simple, but I think that it might be a little too simple and a little too traditional. The paint color is a deep beauty that mostly reminds me of beautiful deep jewel tones, but also kind of reminds me of the 80's color palettes which doesn't make me feel joyous.
So while I don't normally love having semi-finished designs floating about, I'm hoping that one or two of you might chime in and let me know what you're thinking. Anything you love or hate or would absolutely change?
---