Have you ever been so tired that your teeth hurt? I'm there right about now. This house has taken waaaaay more time than I thought it would and I feel like I have barely scratched the surface on what needs to be done. We're moving in this weekend and finishing up resurfacing (read:repainting) the cabinets so I'm behind on updating the blog with progress. Instead of trying to kill myself attempting to balance work, blog, and moving, I thought that I'd show you what the inside of the house looked like when we walked through it (and fell in love).
You've already seen the outside so I thought I'd just show you what the interior spaces looks like. Later on I'll show you before and afters but for now, let's just take a virtual walk through.
Entry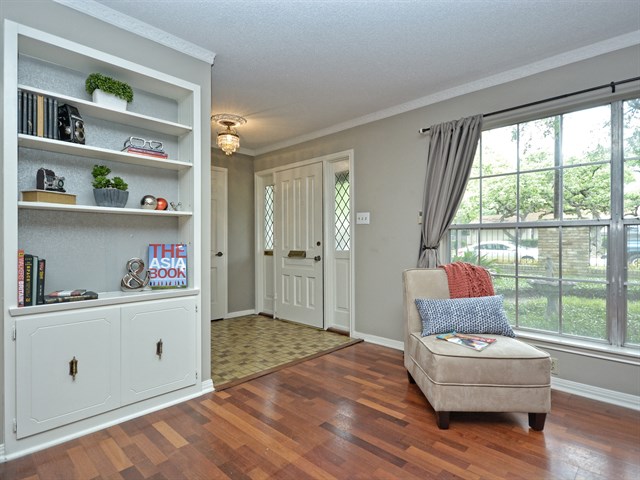 Love the huge coat closet in the entry but let's be real, that tile has to go. Soon. More on that later. Let's just stare at the built ins and pretend we can't see it.
Dining Room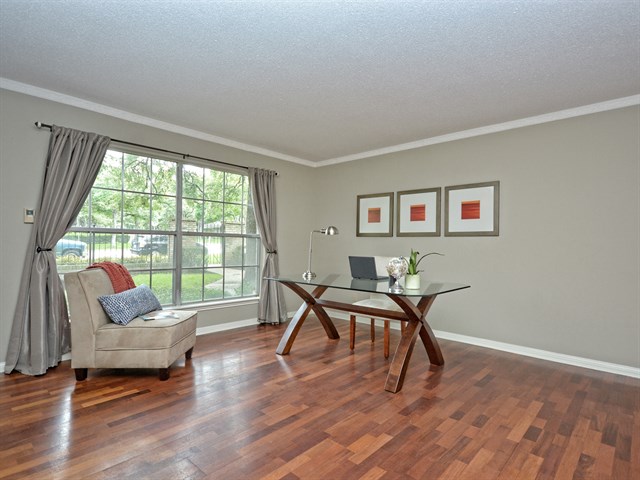 When you walk in, the first room you enter in the formal dining room. They staged it as an office but we'll take it back to it's original purpose- in fact, this room was one of the big selling points for us. We love to entertain so this will be well used.
Living Room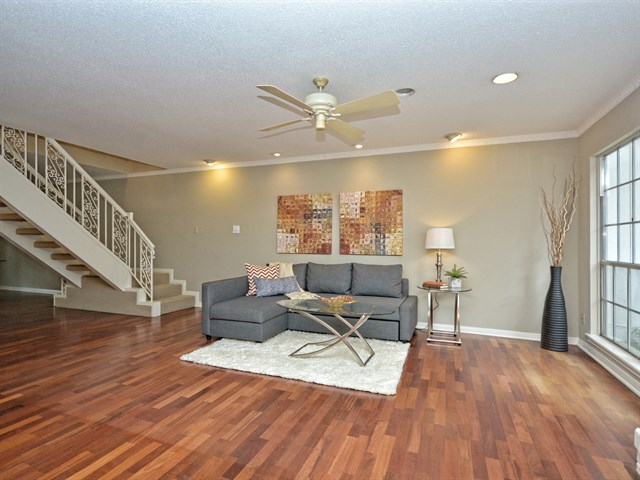 On the other side of the floating staircase we have the living room with some awesome huge windows and great mantle and fireplace. The moment I saw this space I thought of decorating it for Christmas. It's going to be soo fun. It feels like it was pretty much made for Christmas.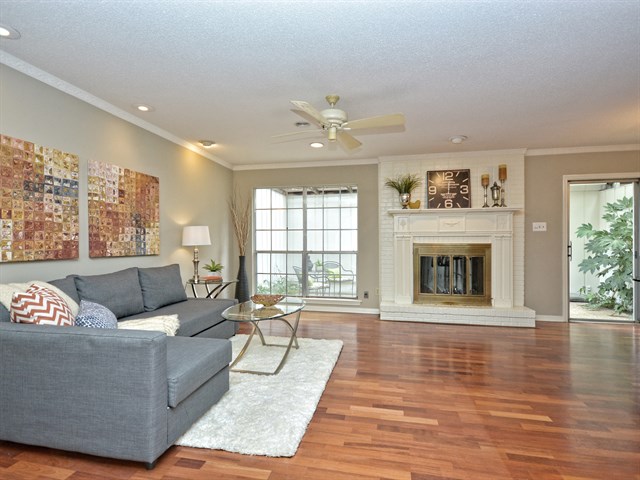 Breakfast Nook and Bar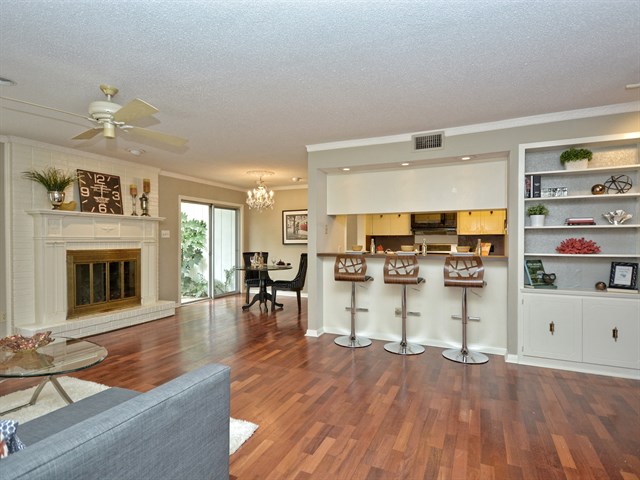 Look at that beautiful, open flow. This shot is from the sofa and looks into the breakfast nook and slightly peers into the kitchen. While it might be handy to have a little table and chairs in that space, we're thinking of repurposing it into a piano room. It's a bit bigger than it seems in photos and we've measured it out and a baby grand piano will fit into it perfectly. Imagine having the husband tickling the ivories while we entertain guests around the hearth. Doesn't it sound dreamy? That's why we're pretty much planning forgoing eating bacon and eggs there in the AM, especially since the dining room is not that far.
Kitchen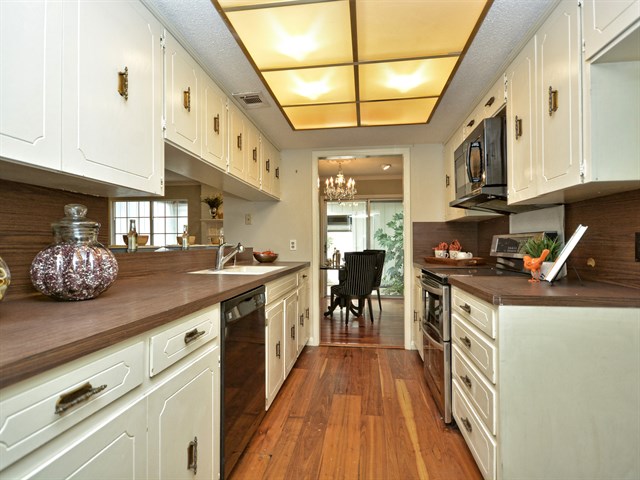 This room is the one that will see some of the biggest change. We've talked about how we're making changes to it now, but later on next week I'll introduce our two step plan to bring this area into 2015 and make it feel a little bit more like "us."
Powder Room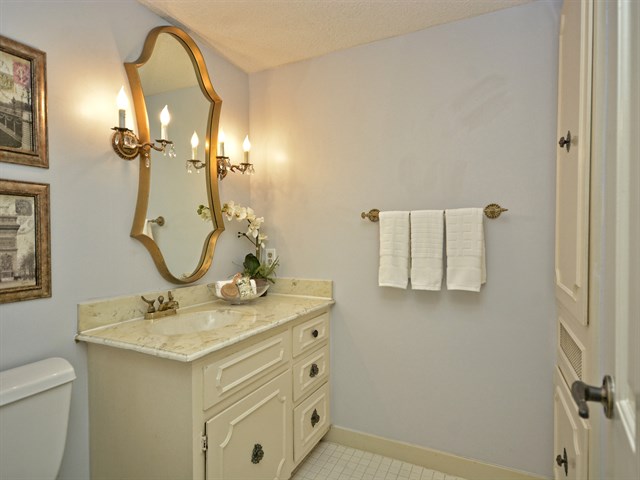 Off the kitchen there's the laundry room (too boring to photograph apparently) and the powder room. If this looks familiar, it's because I talked about plans for it here.
Landing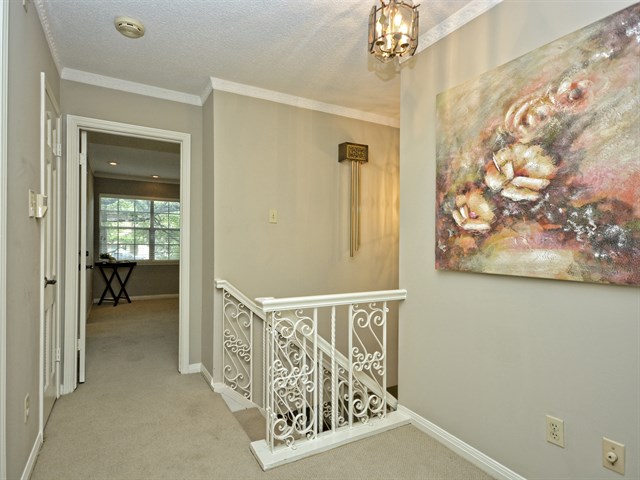 This landing area upstairs will also need some love. Don't you love that HUGE doorbell? Yeah, it's not staying despite my husband's pleadings. Too huge and too ugly, plus it's hard to see here but it's actually missing two chimes. Dated and broken means it's time for it to go.
Office and Guest Room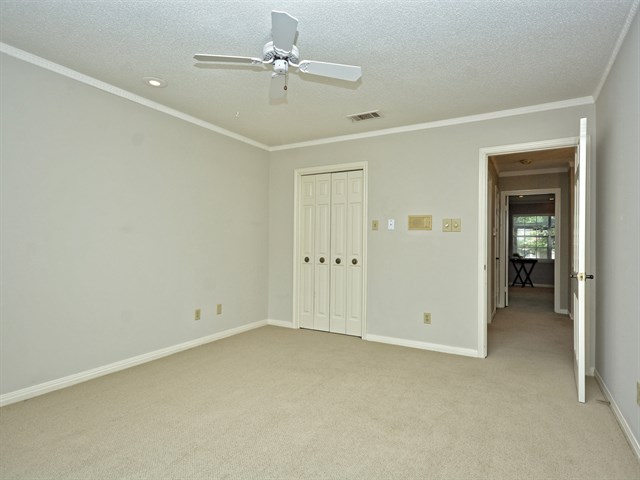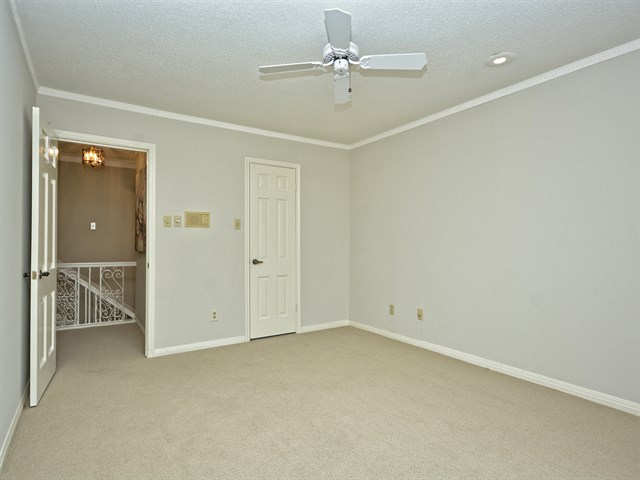 These two rooms are nearly identical except that the last one has a huge walk in closet which will be perfect for storing all of that Christmas decor we talked about earlier. Both rooms are decently sized and I'm sure I'll share more about them when I get to setting them up and styling them but for now imagine them in a crisp white.
Guest Bathroom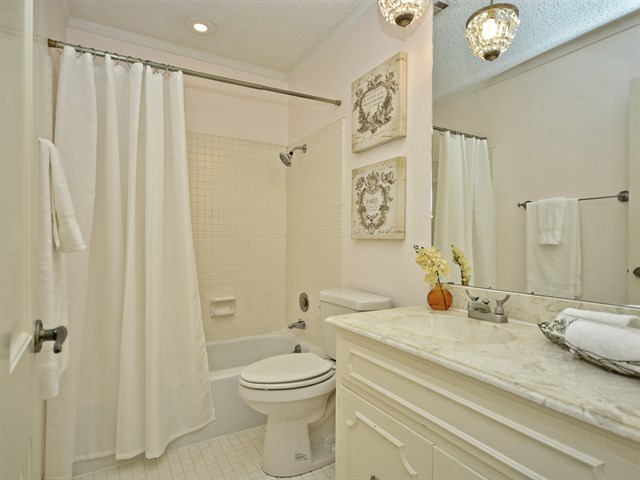 This is currently the least cared about room in the entire house which is surprising considering the walls are currently a light pink. We'll care about it sometime, but for now I'm just happy that the husband is color blind and thinks it's off white. 🙂
Master Bedroom and Bath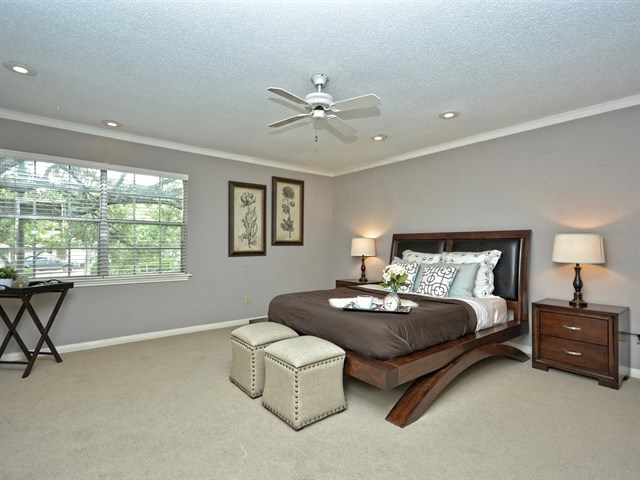 This was the other space that really sold us on the house. Most (almost) 50 years old homes have small master bedrooms but this one is pretty large and the window provides great natural light. The light plum color on the wall actually inspired us to go super dark in the room and I couldn't be more excited! We'll talk specific colors soon!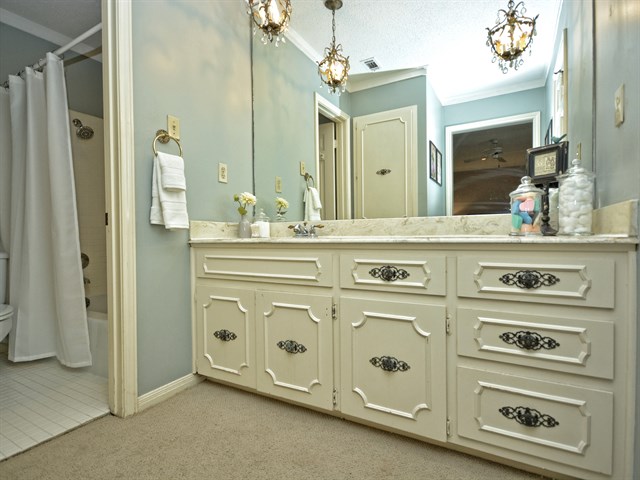 This space will also need a bit of love. It's not bad but it's not good. Carpet doesn't belong anywhere near a sink and if you're sitting on the toilet and someone opens the door, your knees are getting banged up. #reallife At some point we imagine ripping all of this up and configuring it in a way that makes it feel more open and definitely less off-white.
There are a few spaceS that weren't photographed like the laundry and the master walk-in closet. I'll get to photographing them soon and including updates but in the meantime, let's talk about some things we love and don't love so much. What's your favorite room? Any features you love or hate? Any recommendations on updating? Leave a comment- I love and read them all! 🙂
---