We're back talking about the house today and more specifically, the lighting. There are so many awesome vintage touches to this house and we fell in love with so much of it. But not everything in it was exactly our taste. To be honest, some of the fixtures took you back in time to when men and women wore bell bottoms and "groovy!" was an acceptable response to anything. While I love so many things about the 70's (hello, flares are flattering on every woman), the lighting from that time period is not my fav. But I believe in starting with the positive, so here's the good: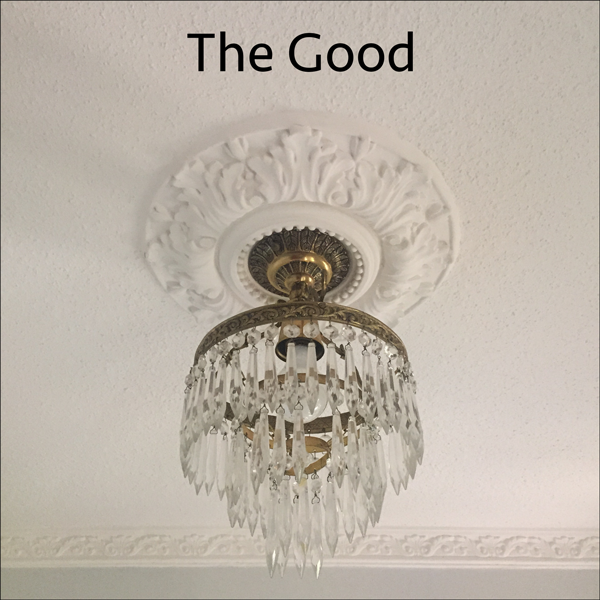 This beauty is in the entry and we couldn't love her more! We have 4 other fixtures like this one and we're thrilled that they came with the house. You can see it's missing a few crystals, but c'mon, she's 50 years old. We'll give her a break since we think she looks fab for her age and just find matching crystals at a local antique place. Easy peasy.
Now on to the the bad ones. Guys, I want to not hate them but I do. Take a look and you'll understand. If not, come buy them from me- I'll give you a deal.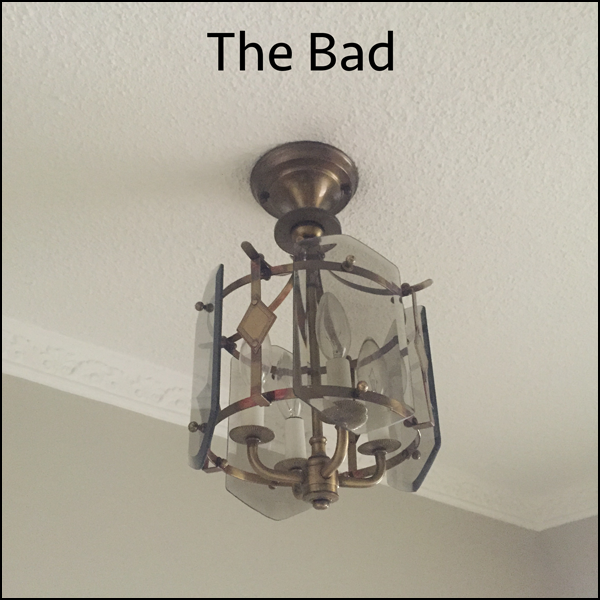 Ah, that 70's brass. We have two of these bad boys in our house; they're both within 5 feet of each other upstairs, and every time I see them "Stayin' Alive" starts playing in my head. I like that song, but I really don't want to have it mentally on repeat every time I leave my bedroom. So I'm thinking about replacing it with something that flows better with the lighting in the house that we actually like. Like this one: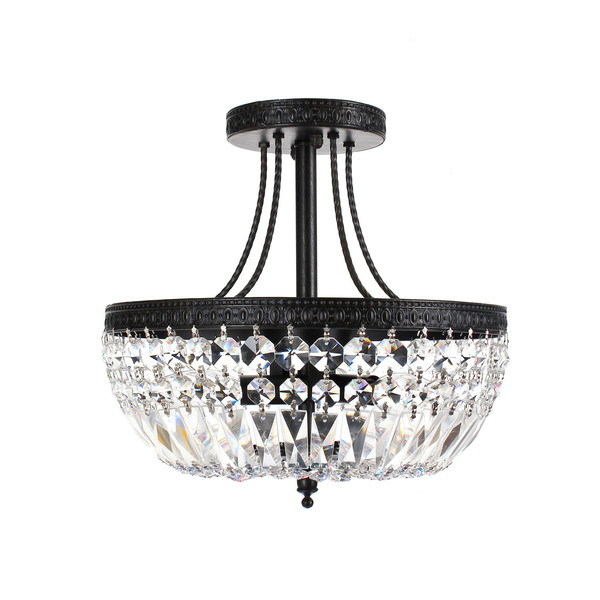 Isn't she gorgeous? And the crazy thing is that she is less than $130 at Overstock. Not everything from there is a winner in my book but this little number has a 4 star rating. All of those factors together means that it needs to come and live at my house. (More Details on the fixture HERE.)
After showing you the last beauty from Overstock, it kind of makes my heart hurt to show you this last one. Welp, here it is: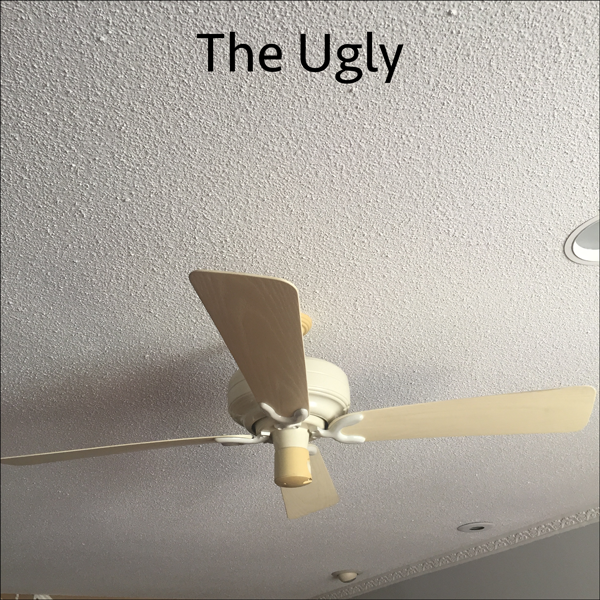 Yes, this is in my home and yes, it still works. I imagine that at one point this was white, or antique white, or even just white-ish. Now it is straight up pee-yellow. This urine inspired fixture is in the living room and while I'd love to hang a beautiful crystal chandy in there, I have to face reality. And the reality is that I live smack dab in the middle of Texas where it's hot most of the year. So instead of hanging something beautiful and breathtaking to replace this monstrosity (perhaps a bit hyperbolic) I need to replace it with something less offensive. Ceiling fans, especially white ones are not vogue and they probably shouldn't ever be, but a girl needs some air flow during months when we consistently hit triple digits.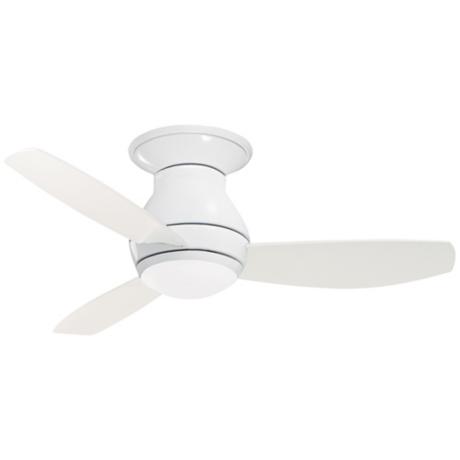 So this was the least offensive, least obtrusive-feeling, white fan I could find. It fits the criteria which is it needed to be short, not ridiculously ugly, and not yellow. It turns out that locating this fan was no easy task as most white ceiling fans are terrible. But let's not dwell on that. Let's relish in the fact that I found this one that will "get the job done" as my dad used to say. (Fixture HERE).
Now, it's just down to ordering and installing in between millions of coats of paint. So, what do you think? Are you as horrified by the fan as I am? Do you love the 70's fixtures (someone please say you want them) or hate them? Do you use ceiling fans or just sweat it out? Have I asked enough questions? On that note, have a great Friday!
-Katy
---