We're closing on our new house in less than two weeks which means I should be packing up boxes, going through miscellaneous items, and all of the other boring moving stuff. But I'm not. I'm scouring the Internet for new furniture for our new digs and I don't even feel bad about it. I like to think of it as "prepping" for new space. And the past few days I've been spending my "prep time" looking at gorgeous entries. Ours will be small but it doesn't mean it can't be interesting.
Since space is limited, I've pretty much decided on a lucite entry table to keep things visually clean while giving the space something solid to throw keys on. Look how pretty this one is: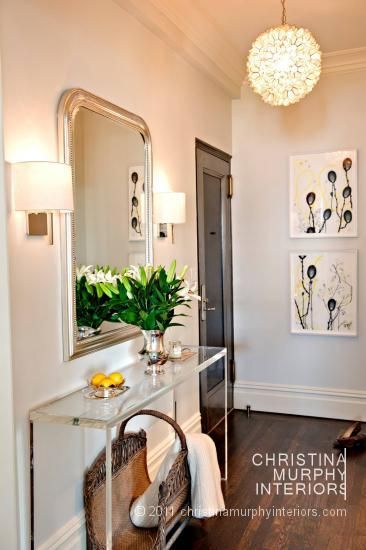 Don't you love how it defines the space without breaking it up all at the same time? Lucite is pretty much magic. Beautiful, beautiful magic. So in order to "prep" a little more (it's always good to be prepared, right?), I thought that I'd make a mood board for how I see it styled in our new house.
I'm planning on painting the walls a soft bluish gray which I think will look gorgeous with the rug and art and help tie everything together since we're pairing modern and traditional pieces.
So tell me, are you a fan of the lucite table or is it too modern for your taste? Would you pair with only modern touches for a cohesive look or try to balance it with more traditional pieces?
---