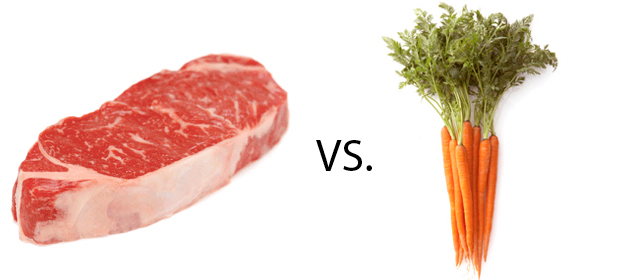 Meat-less Mondays aren't a new thing. They've been growing in popularity since 2012 and three years later the movement is still going strong. I love this movement for so many reasons, but especially because it normalizes the idea of having a meal not centered around meat. In the past it's been very un-American to see carrots or beets (or any veggie) taking center stage on your dinner plate, but more and more it's changing. For about three years my husband and I were vegetarians and going out to eat, inviting friends over for meals, and eating at other people's homes were often frustrating and sometimes even awkward. Thanks heavens that now it's pretty widely accepted that having meat-less meals are not only acceptable, they're healthy.
Save Money
The average cost of organic carrots is $2.26 a pound. The average cost of regular beef is $4.10 a pound.
Help the Planet
Did you know that for every pound of meat produced in the U.S., it takes 1,850 gallons of water. For a pound of vegetables it's only 39 gallons. Not an insignificant amount when you think about the drought in California where much of our food in the U.S. is produced.
Help Your Waistline 
Limiting your meat intake can help you decrease your chances of cancer. Yes, cancer, the worst "C" word. Even just one additional serving of veggies a day to can also lower your risk of heart disease by 4%.
If you're nervous about what to cook without throwing chicken into a pan, don't worry, there are tons of vegetarian options.
Click on the picture or HERE to find awesome French vegetarian recipes. You won't regret trying even one of these amazing recipes! Want an awesome blog that features a lot of super great veggie recipes? Check out OhSoDelicisioso– they are amazing, especially their vegetarian chili recipe.
Anyone else out there still observe Meat-less Mondays or maybe some of you just avoid meat all together? Any recipes you swear by?
---