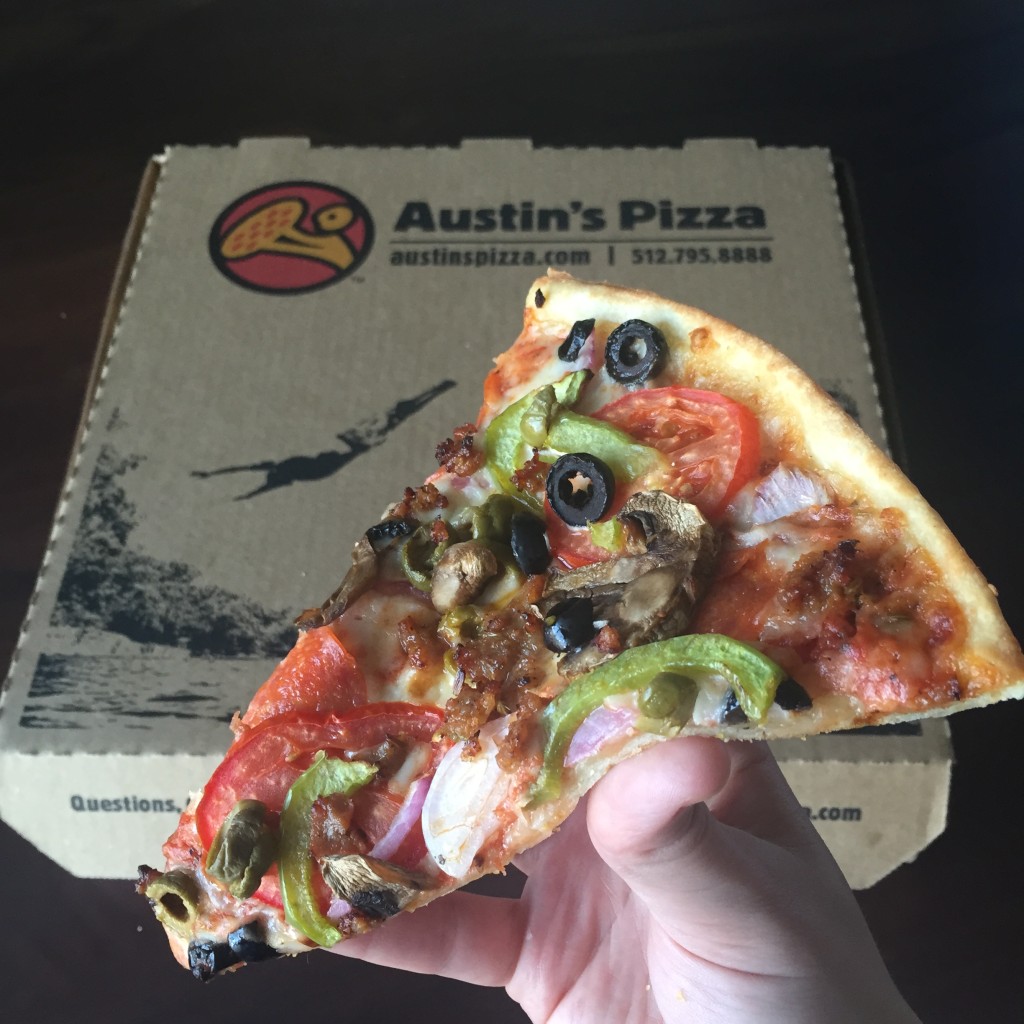 Don't you love it when a company you already support goes and does something awesome? I don't know about you, but it totally makes my day. We're already huge lovers of Austin's Pizza because they're local, close, healthy-ish, and straight up delicious. We always order their "Mopac" (it's essentially supreme) and they always load our pie with tons of veggies. It makes justifying ordering it for lunch WAAAAAY easier.
A couple days ago, I needed something fast, and kind of healthy so I called in my order and got in the car to pick it up. Walking in the door, I was greeted by the usual guy but also an additional employee. A beautiful woman, who obviously had Down-Syndrome, was there helping fold pizza boxes and fill orders. She smiled big as Texas when she saw me and her spirit was simply radiant. She was extremely kind, and seemed super happy to be doing her assigned tasks and helping me. While I've never had a negative experience with Austin's Pizza, I haven't ever received that level of service and attention during any of my other pick ups or deliveries.
Even with her great customer service and sweet smile, I know that hiring someone with disabilities isn't always the easiest route. They could have hired some high school kid and I'm sure he could have done her tasks far faster and with less help. But they didn't. They hired her.
Walking out, I'd be lying if I said I didn't tear up just a little. This kind of thing hits close to home as I have a brother who has some physical and verbal challenges. I've spent hours talking with my husband about my brother's future and potential educational and employment opportunities, wondering what he'll be able to do and where he'll be able to work. I'll readily admit, it's worry that is never far from my mind as he's nearing eighteen. Talking with that sweet woman not only made my day (her smile was completely infectious), but it also helped me gain a little more hope for my brother's future opportunities.
So today during my drive home, I resolved that Austin's will forever be our pizza place. I love supporting businesses who do the right thing, instead of just the cheapest thing, and I love telling everyone about it.
I'd love to hear more about other companies who are doing it right. Are there any businesses in your community who stand out because of their awesome values? What makes them stand out?
---