You guys, I am elbow deep in paint and feeling a little overwhelmed. Turns out that every single inch of the new house needs to be repainted. I'll talk more about that later on, but for now, let me tell you that my days consist of working and painting and not a whole lot else.
In hopes to retain some of my sanity, I spent some time searching the Internet for pillows because pillows are a whole heck of a lot more fun than paint at this moment. We just bought new sofas and a new rug (so those will be coming with us) so I needed to find some fun, affordable (buying a house is expensive!), and not matchy-matchy pillows.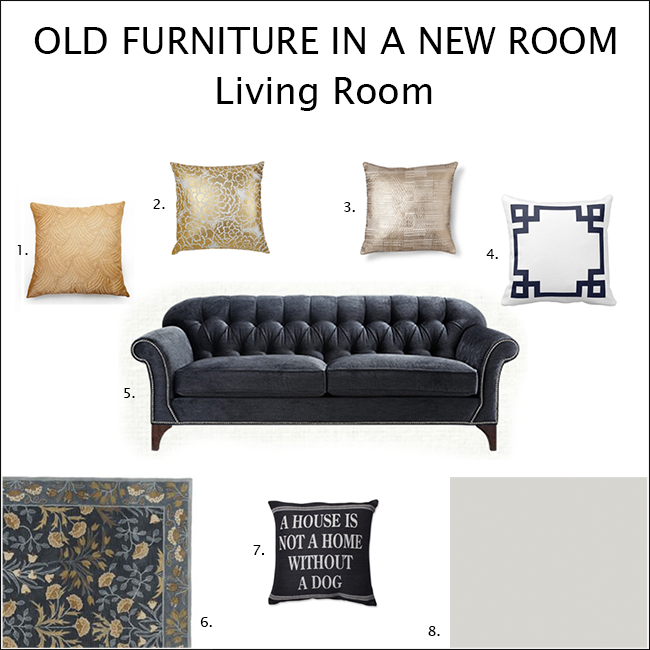 #8 (in the bottom left corner) is the color I'm currently slathering all over the walls downstairs. It's a beautiful true neutral gray and I'm excited to show you what it looks like when I'm finished! But let's get back to the pillows, shall we?
I'm thinking each sofa needs some white pillows (we already have some right now) but I'm really looking for a pop of gold and fun as well. I love #2 but I'm not sure that husband will go for the additional floral design. #1 is pretty but but might be a little too yellow so I'm thinking #3 might be our best bet. I thought that the dog pillow might be a fun little one too add since our little pup pretty much runs things around here.
So what do you think? Which gold pillow do you like the best? Also, did you see that insane price on the greek key pillow cover- it's under $5. Insane. Speaking of insanity, it's time for me to get back to the painting that is taking over my life. Check in tomorrow for updates on the lighting that came with the house.
-Katy
---