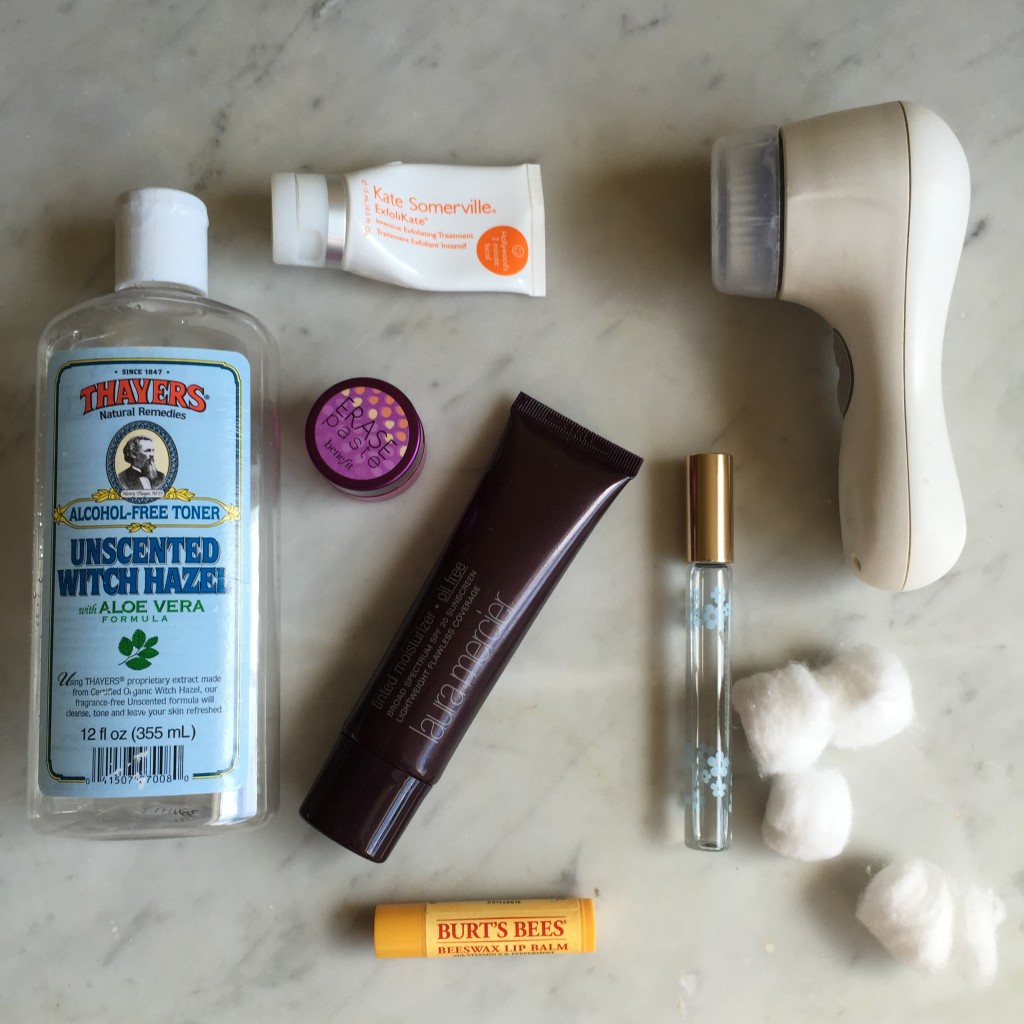 Just popping in today to talk about a few of my favorite skincare products for the summer. During the summer when it's blazing hot outside and your make up is melting off your face, it's more important than ever to make sure you're skin is in good shape.
Thayers Unscented Witchhazel Toner has become one of my favorite skincare products ever. I use it to take off my make up at night and it leaves my skin feeling cleansed, yet hydrated and soothed. It's really helped my overall tone and oiliness and it's usually around $10 and lasts FOREVER. I've been telling all my friends about it for so long that I figure I should probably let all of you guys in on the secret. It's magic.
Kate Somerville Exfolikate is my go to product when I think that my skin is looking a little dull. A friend in the skincare biz recommended this to me a couple years ago and now I always have it with me. I love buying it in the smaller tube so that I can easily take it with me when I travel since traveling tends to wreaks havoc on my skin. Please someone tell me that I'm not the only one.
Clarisonic Mia 2 is one of the best investments I've ever made for my skin. It's essentially a toothbrush for your face (not as weird as its sounds, I promise) that utilizes the same patented sonic technology as those amazing Sonicare toothbrushes.This little guy gets all the surface grime off your face in just a minute. It's definitely a little pricier but I've had mine for over 2 years now and I still use it every day in the shower.
Marc Jacobs Daisy Dream Roller is not technically a skincare product, but I just had to share it since I love it so much. I keep this in my purse pretty much at all times and it's perfect for when you're feeling kinda gross and need a quick something to freshen up. The scent is soft and clean and the size is perfect for travel or just your normal, on-the-go life.
Laura Mercier Oil Free Tinted Moisturizer is probably my most recent find. I've used Aveda tinted moisturizer for probably the last 5 years but was wanting to switch things up a bit. An awesome friend who knows and loves all-things Sephora convinced me to try it out and I have loved it since day one. LM has a regular tinted moisturizer that contains oil but my combination skin felt too oily with that one. If you're not sure which one you'd like, get a sample of both and test each one out for a couple of days.
Benefit Erase Paste has saved me since I have extremely dark circles under my eyes- thanks mom! This paste is a bit thicker than most concealers and it perfect for under eyes, sun spots, and blemishes. I bought my first little tub over a year and a half ago and just now needed to replace it so it lasts for a super long time!
Burt's Bees Lip Balm is an old standard. I'll admit that I've occasionally wandered off and tried a different lip balm only to quickly return to Burts.
Do you have any skincare products you swear by? Have you tried any of these products and if so, what did you think?
---