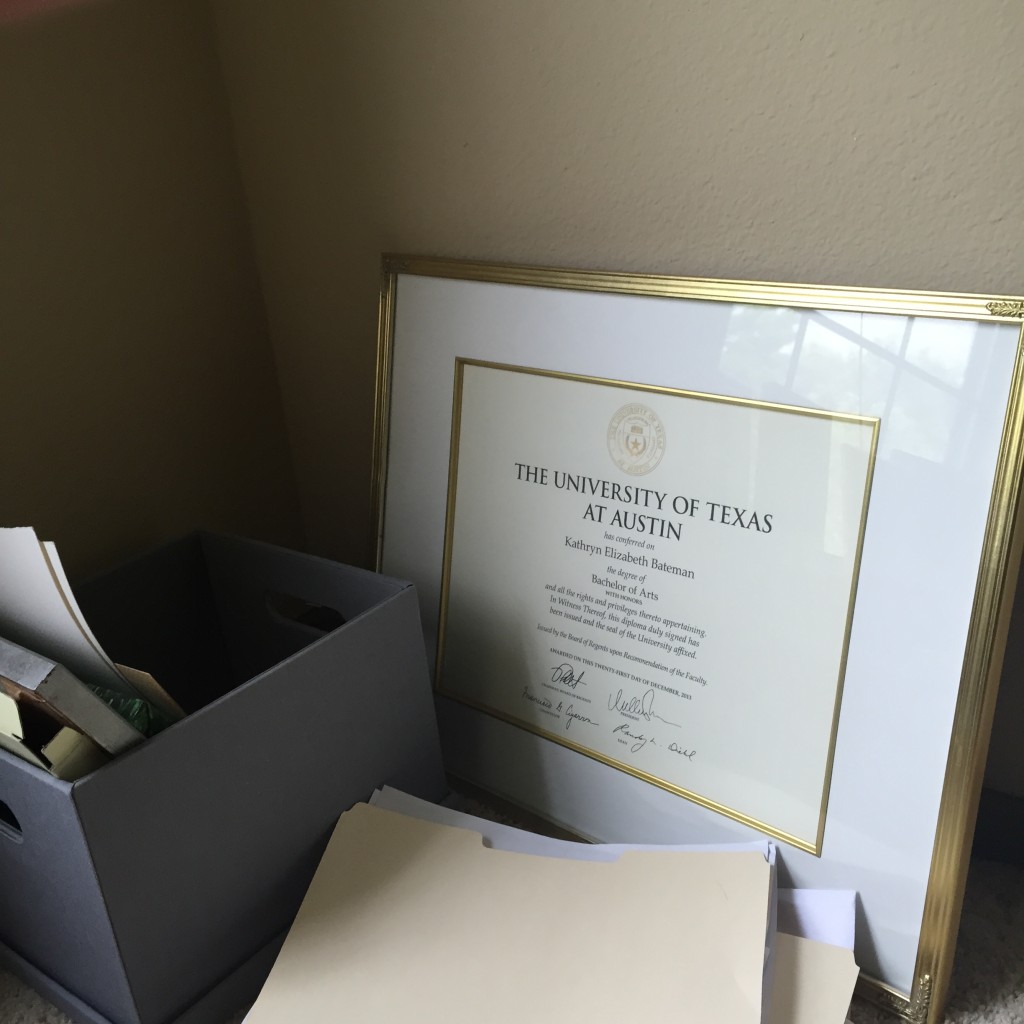 This is the corner of my office. That gray box is filled with art ready to be framed and heaven knows what's in those manilla folders. Receipts? Insurance info? Your guess is as good as mine. But behind my semi-organized stuff is one of my greatest accomplishments, my college diploma.
I realize that people graduate from college every day of the week- well, mostly in May, but my point is that tons of people finish college. For some people it's easy, and in four years they're dunzo. But for me, it wasn't that way. I had a lot of starts and stops, a lot of people doubting my abilities, and even a university change thrown in there. It's not that I couldn't do the coursework, or even that I didn't want to but it seemed like life kept getting in my way. But I did it. I finally finished (with honors :).
I finished at 26, quite a few years after most people. In fact, the University of Texas (hook'em!) even categorized me as "non-traditional" because I was so old when I transferred in. Believe me, its *awesome* to be considered old in your mid twenties (I forgive you, UT). But despite feeling a little bit old, walking across that stage was truly one of the highlights of my life. So it totally makes sense how I was waiting with bated breath for my official diploma to arrive. I think I had it framed almost immediately. And then it sat on the floor. And it still sits on the floor in that same spot. Shameful, I know.
So my question today is, have you hung your diploma? When you think about it, it's probably one of the most expensive pieces of paper you own and might ever own. If you're like me and never have, what's holding you back? For me, I'm not really sure why. So this week I'm going to locate my hammer and a nail and get my fancy piece of paper up on the wall where it deserves to be.
-Katy
---