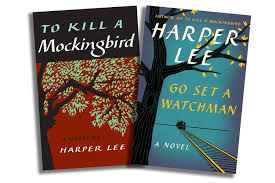 Go Set a Watchman, the first book Harper Lee wrote, is being released July 14th. She submitted it to her editor over 55 years ago only to be asked to re-write it. The rewrite is known today as "To Kill a Mockingbird," one of America's greatest novels and arguably, one of the best books on racism and southern life. I fell in love with it when I had to read it for a middle school class and I've reread it many times since.
But I have some mixed feelings on "Go Set a Watchman" being published. Ms Lee has only ever published her one famous work and throughout the decades has insisted that she would probably never publish again and would like to be left alone. Now that she's 89 years old, with her faculties failing her, her novel is going to be published. There are some reports that state that she is actually quite happy about it while other news outlets feel that her publisher and publicist might be pushing for this against her wishes.
So my question today is: Will you read it? The CEO of News Corp has read it and says it's wonderful but they own the publisher, Harper Collins, and are counting on profits to help boast quarterly revenue. While I'm pretty sure it's extremely well written and profound, is it the right thing to do considering some people feel like its publication is elder abuse? For me, I'm not sure which side to believe but if I'm being honest with myself, I'll probably preorder it sometime this week as I can't imagine not reading something Harper Lee wrote. My hope is that she did want it published and that the proceeds will help to take care of her in her twilight years.
If you're looking for more information about Harper Lee's life, I recently watched this documentary on Netflix and fell in love with her even more.
---