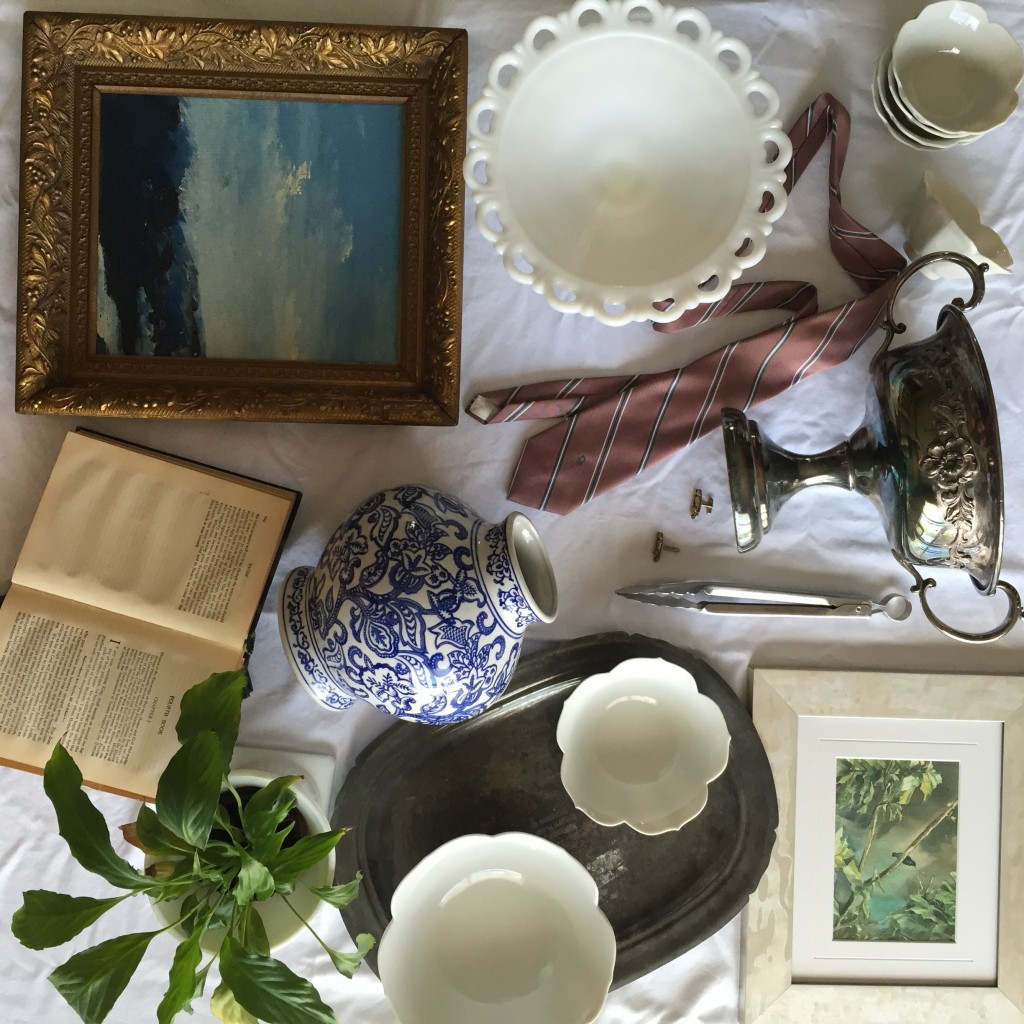 I love estate sales. My husband says that I love them because you get a chance to dig through people's stuff, but I say that it's because of the amazing deals you can find. If I'm going to be honest with myself though, it's probably a little bit of both. Either way, I love taking half an hour or so and heading to a couple after my Saturday donut runs. But do not be fooled, not everything at every sale is a good deal or even a good buy. I've come across half burned candles, dirty linens, broken plastic toys and many other less than desirable items at plenty of sales. After going through quite a few homes, I've learned for experience what's worth it and what's not. Here's a basic list of things I always keep an eye out for:
Original Art– I am always on the hunt for a great oil painting or water color that would fit in my home. I've purchased awesome pieces for pennies on the dollar. Pro tip: look beyond the frame. Sometimes the artwork is beautiful but just need a little update.
Vintage Scarves and Ties– See that taupe tie in the picture above? It's a beautiful Dior tie that we paid 50 cents for. That is crazy, I know. Not every sale will have gems like that, but it's worth looking. Pro tip: I usually have more luck with finding awesome ties if the home is mid century modern.
Cuff Links– We've found some of my husband's favorite cuff links at estate sales- the ones above are actually really cool 1930's cars. Pro tip: Don't just look in the cases in the front. Many times they'll have some in the back bedroom/bathroom near where the ties are.
White Serving Ware and Milk Glass- I use my little white flower bowls all the time during parties and dinners. I think I got the set for something around $4 so I have more than got my moneys worth out of them. Milk glass is also awesome for serving and adds that extra touch. Pro tip: Many estate sale companies know that milk glass is hot right now so sometimes it can be incredibly over priced. I never pay more than $7 for anything milk glass and recommend not going over $10 unless it's extremely large, detailed, or unique.
Silver Plate- I think old silver has a beautiful patina and can add depth to a space. Pro tip- Like milk glass, it is often over priced! Don't be afraid to walk away from something if the price is too high because you can find tarnished silver in most sales.
Blue and White Ginger Jars- Ginger jars are so popular right now and some of the best prices I've seen on them have been at estate sales. Pro tip: Unless you do your research or have some way to authenticate age, be a little wary of the super pricey "older" ones.
Plants and Planters- I've more recently discovered that buying plants and planters at these sales can mean you can get INSANE deals. Pro tip: Don't forget to check out any planters in the front and back yard, especially on the last day. I've missed out on some beautiful antique urns because I saw them just a moment too late.
So there's my list of things to watch out for. Have I missed anything? Anything you always pick up when you go to estate sales? Good luck at the sales this weekend!
---